Quality Multi-fuel Stoves and Wood Burning Stoves
Buying the right stove for your home, and the stove installation, are extremely important. Home Fires and Fuels aims to ensure that our customers are provided with the best advice so they can make the right choice. Therefore, we offer a complete service to every customer, from advice on choosing the right stove through to stove installation.
If you are thinking about transforming your home and having a wood-burning stove, you should get in touch with us. We will provide you with advice to enable you to choose the best stove for your home.
Step 1: HETAS Survey
Firstly, one of our friendly
HETAS fitters
(David or Jeremy) will contact you and arrange a convenient time to visit you at your home. During the visit, they will discuss your needs and provide options for you to consider. This no-obligation survey is free and available to customers across the Stockport, Greater Manchester, Cheshire and High Peak areas.
A few days later, your fully itemised quotation will arrive.
Step 2: Choose Your Stove
We can help you choose your stove, hearth and beam. We can of course discuss any changes you may wish to make at any point.
Home Fires and Fuels can supply most makes of stoves and will be able to give you a very competitive quote.
We are authorised agents and have achieved 'preferred retailer' HETAS registration for ACR Stoves and AGA Stoves.
Step 3: Stove Installation
Once a deposit has been placed, we will arrange a fitting date and order your Stove, Hearth & Beam (if required) and any fitting materials (liner, cowl… etc.). The fitting will take around 2 days if no building works are required, 4-5 days if building work is required to open up the chamber.
Please be aware that the installation of a stove, flue liner or any major chimney work falls under building regulations (Approved documents J and L). When this work is undertaken by a HETAS qualified engineer they will provide you with the necessary certification. However, if the work is carried out by someone who's not HETAS qualified, you must gain approval from the building control department of your local authority. This will usually involve the payment of a fee (typically around £200-£300) and, in addition, an inspection by the council officer.
Above all, having your stove installed by a HETAS approved engineer means that you can be assured of its safety and compliance with building regulations.
On completion, we will provide customers with a full demonstration of the appliance. You will also receive a FREE starter pack of our Kiln dry logs, Kindling and Flamers so you can sit back and enjoy your fire.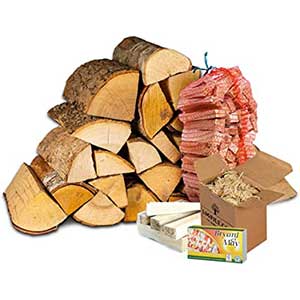 We have provided some of the main queries about wood burning stoves, stove installation and the use of wood as a fuel source that we are asked.
Customer Service Pledge for our wood and multi-fuel burning stoves and accessories
Home Fires and Fuels are committed to providing our customers with the best possible service. This will be achieved by providing customers with comprehensive advice and options to ensure that they choose the wood or multi-fuel burning stove that is right for them. This will include:
Information about the appropriate heat output requirements.
Advice about installation and use of HETAS installers and building control regulations.
Details about safety and the correct fuels to use with your stove.
Home Fires and Fuels will:
Seek customer feedback at regular intervals and use this feedback to improve our service.
Maintain competitive prices.
Aim to rectify any problems with products or services purchased by customers as soon as possible.
Respond to any enquiry by telephone immediately or, when closed or otherwise unavailable, within 24 working hours.
Provide a free delivery service to local customers subject to a £35 minimum order and within an 8-mile radius of our storage depot at Chadkirk in Romiley.
Work with local businesses and tradespeople wherever possible to help the local economy.
Ensure that staff are trained and have a high level of knowledge of the products we sell.